Solutions to comply with
GSR 823(E)
and fight the problem of counterfeit
drugs in the Indian market
GSR 823 (E) - INDIA REGULATORY
Protecting health from fake drugs
In order to fight the problem of counterfeited drugs in the Indian market, the Ministry of Health and Family Welfare (MoHFW) issued the gazette GSR 823(E) on 17th November 2022 which came into force on August 1, 2023.
The regulatory demands to pharmaceutical manufacturers to affix a QR codes/barcode on the packaging of 300 drugs formulations specified in Schedule H2.
The highlight of GSR 823(E) regulatory is that from August 1, 2023, manufacturers of drug formulation products detailed in Schedule H2 shall print or affix a barcode or a code QR on their packaging.
The printing of a Barcode or a QR code is required on the primary packaging label (or in case of lack of space on the secondary package label) and need to include the following information:
Unique product identification code;
Proper and generic name of the drug;
Name and address of the manufacturer;
Manufacturing license number
Due to the high volume of information that these kinds of codes must include in a very small space – the task of printing, checking and verifying them can be hard, and requires a high level of accuracy and flexibility.
To allow pharmaceutical industry in India to comply with GSR 823 (E) mandate, SEA Vision provides in-line and offline vision inspection software capable to ensure a high-speed reliable inspection. The high capabilities of the software enable manufacturers to perform even the most complex control:
• recognizing codes in different formats, sizes and orientations
• performing inspection independently from the surface's backgrounds or light conditions
• adapting to all packaging machines vendor's models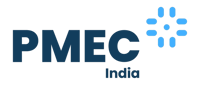 PMEC INDIA : VISIT US AT BOOTH 10.C39
From 28 to 30 November, SEA Vision team will be available at PMEC India (India Expo Center, Greater Noida, Delhi) booth 10.C39 - to show off its solutions to ensure pharma companies in India meet the necessary requirements to comply with GSR 823(E).
Moreover at the booth, visitors will have the opportunity to experience firsthand:
• a vision system for the quality inspection of solid dose products > discover harleblister
• a print&check machine for product traceability, equipped with a vision system for checking codes and data on cartons and cases > find out more about tracker system
• a powerful platform made for scalability and full integration with existing IT environment/ERP/third-party traceability solutions, to enable the centralized management of packaging lines > explore yudoo's features.
Are you going to attend CPHI PMEC India?
Receive a FREE entry ticket for the fair (saving 1,000 INR)! Register yourself at this link within 24th November 2023* >
*free registration will expire after this date!
Download our adverts of the systems on show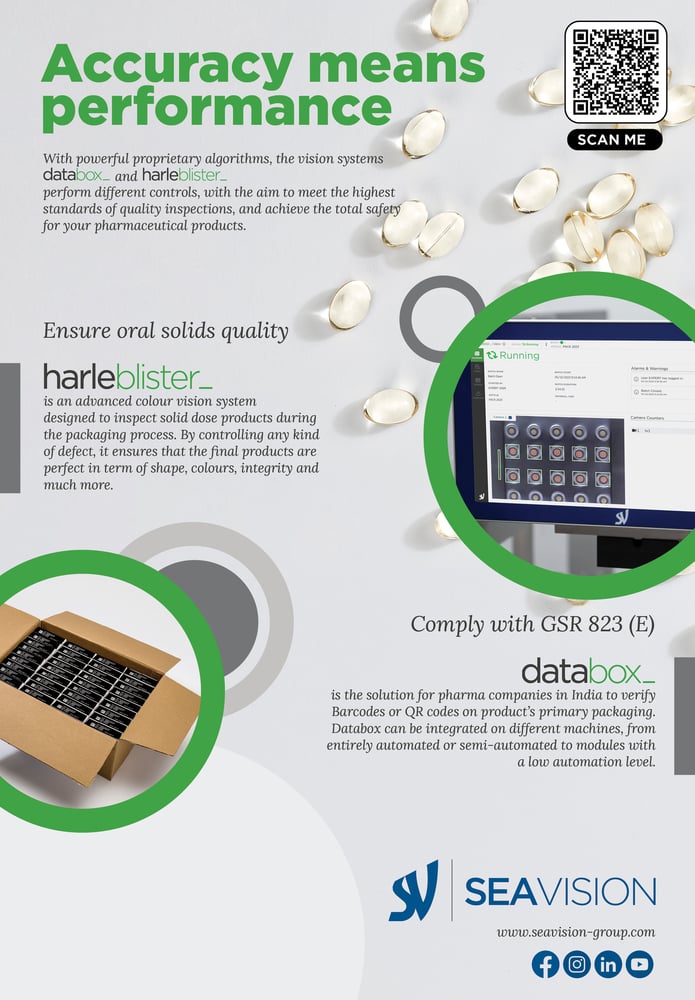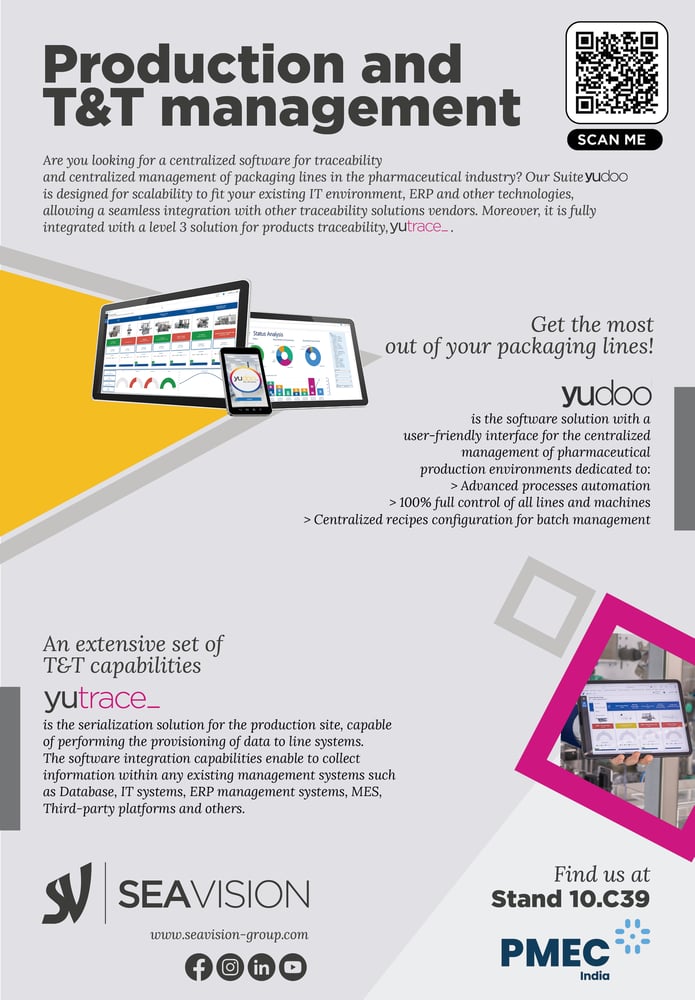 If you are a pharmaceutical manufacturer and need to face compliance issues linked to GSR 823(E) regulation, we've got just the answer for you! Contact our staff to learn more.
Download here this webpage in a printable pdf document format